Unless you don't use your car and you just store it in your garage, your vehicle is prone to rust. That's why you need to apply aftermarket treatments to ensure that it is always in tip-top shape. One of the treatments you need to apply is a rust-proofing car product. 
This product extends the life of your car's body. It prevents rust from forming. Rust is a nuisance. It's especially true if you live near the coast. It doesn't only damage the body's car but also its engine. 
Apply
Rust Proofing Car
to Engine 
Rust doesn't just damage the body of your car but it also eats away at the engine compartment. It weakens the exhaust system. As it eats away at the engine, it makes your car vulnerable to water leaks and other issues. 
It also damages the electronic system of your car. This system is prone to rust and corrosion because of its metal components. It is also at high risk of rust formation because it is near the metal structures of your vehicle. If rust attacks this part of your car, you'll soon experience electronic malfunction when you use your car. 
The good thing is that there are many ways to stop rust from forming. Although your car's manufacturer has applied rustproof to your vehicle, the sealant won't last for decades. 
You need to re-apply it every year to ensure that there's no rust formation when frequently using your car. You should clean your car and inspect its undercarriage regularly to see any rust stain. If you notice any, you should apply a rust prevention product right away. 
Regularly using rustproofing on your car will lower the risk of your vehicle getting damaged from rust.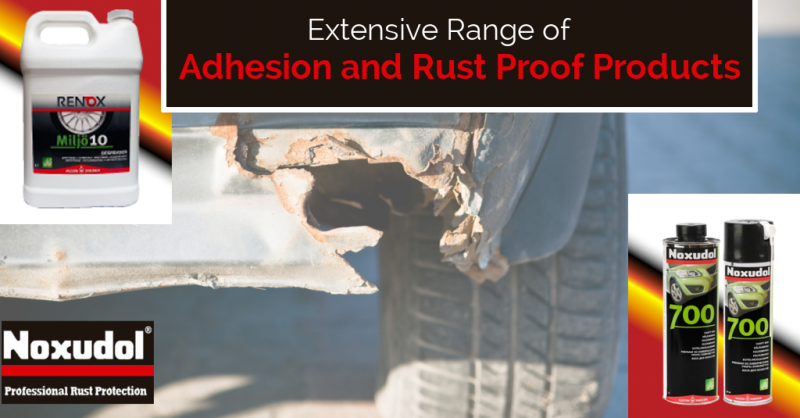 Can You Apply the Product on Your Own? 
If you use NoxudolUSA, you can easily apply the sealant on your own. But it's not recommended. Although it's a pressurized can, you can obtain an even spread, which is required to effectively seal your car. 
That's why you need a professional application to ensure the even application of the product. If you apply it and you don't know what you're doing, then you're only doing more harm than good. 
You should also not go to just any repair shop near you. Keep in mind that if the shop has no experience and knowledge about rust proofing, the mechanic can apply the product to restricted areas. If that happens, it can clog the drain holes. It also causes other issues. 
For that reason, you should only go to an application center that we highly recommend. In that way, the rust-proofing product that you purchase from us won't go to waste. 
Visit our application center page to find the nearest shop where you can take your car. The center has a professional mechanic who knows where to apply the rust-proofing product. He also knows how to evenly apply the sealant so every part of the car is sealed and protected from rust. 
To know more about our rust-proofing car product, call us at 800-997-6536.