The bottom of the car is often the most commonly ignored part of car maintenance. This part is known as the undercarriage. Unfortunately, it's the area of the car that needs the most care. The reason for this is that it's prone to rust. To give it protection, you can apply an auto rustproofing solution. 
One of the reasons you should rustproof the bottom of your car is to help you save money in the long run. Keep in mind that repairing your car from rust will cost around $2000. But it depends on the damage. In some cases, the rust damage can no longer be repaired forcing you to replace it. 
Make Car Safer with
Auto Rust Proofing
Did you know that rust can affect your car's structural integrity? It also causes leaks and mechanical failures. That's why rustproofing can help you save money in the long run. Rustproofing your car is especially beneficial if you live in areas that experience snowy winters. In the winter, your government might spread road salt on the streets to melt the ice so the road won't be slippery. However, salt can increase rust formation when salt combines with water and oxygen. Each winter, these elements can accumulate under your car and they can start damaging it.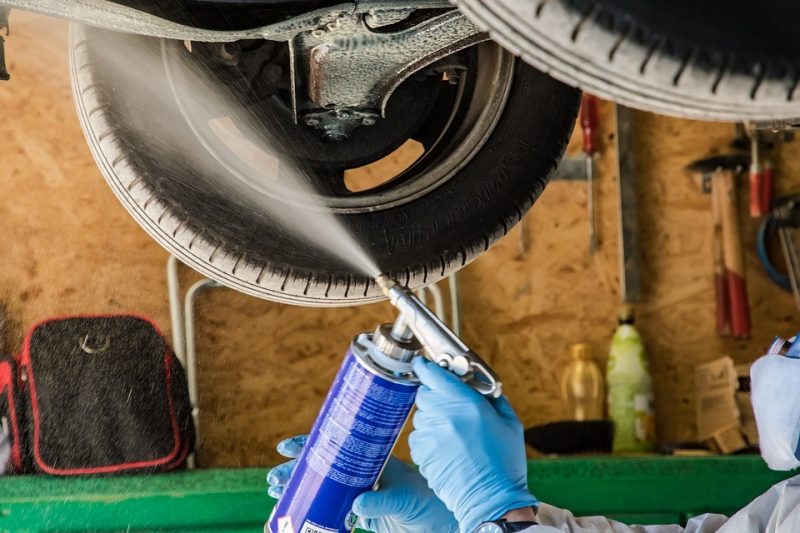 Look for Any Signs of Rust
You must inspect your car for any rust. You should also look into the fenders and other areas that are not easily visible. Always remember that rust signs aren't obvious. A tiny scratch can easily spell trouble. That's why you must treat it before it gets worse. If your car sits low, you may need to go to your mechanic to have it inspected for rust formation. But you can do it during an oil change. You should also clean your car thoroughly, especially during spring and autumn. And make sure that you include the undercarriage. After thoroughly cleaning it, apply an auto rust-proofing formula. 
During autumn, make sure to clean every part of your car to remove all things that could get trapped under the sealant that you will coat afterward. Any rust-causing element can damage your car when they are trapped underneath the sealant. You may also choose to clean your car in spring. During this time, there's extra moisture in the air. Then, you need to deal with fluctuating temperatures. There's also salt on the ground from the melting snow. 
What Auto Rust Proofing to Use? 
There are plenty of options to choose from. However, the most popular is Noxudol. It's been used by car manufacturers in rust-proofing their cars before they leave the manufacturing station. Although most cars have been rust-proofed, the sealant does wear off. That's why you should consider re-applying with a sealant to protect your car from those dust-causing elements. It's not too late yet to start rustproofing your car's undercarriage. You may purchase our auto rust proofing formula online and have it applied by the nearest applicator center.