Some people think that auto rust proofing is no longer necessary these days because newer vehicles are more rust-resistant today than it was 30 years ago. At that time, manufacturers offered their clients lengthy warranties for corrosion. 
Newer cars are indeed more resistant to rust because manufacturers have already applied anti-rust before the cars leave the factory or dealership. But rust prevention remains a priority to maintain the beauty of your car. 
Auto Rust Proofing as a Maintenance Task 
Your new car is still prone to rust formation if you don't maintain it properly. Furthermore, your car is more susceptible to rust if you drive frequently on roads treated with salts. Salts are necessary to melt snow and ice on the roads. It also offers extra traction when it is combined with sand. That's why after you drive your car during winter, you must wash it to remove the salt accumulated in your car's exterior. You can fight road salt car damage by washing your car often after every snow or ice storm. Experts recommend washing your car every 10 days. 
And make sure that you wash it in the daytime to give it a chance to completely dry before the temperature drops again at night time. You must avoid washing your car with recycled water. And ensure that you include washing its undercarriage. When you do drive in snow, avoid deep snow. 
Before winter comes, make sure to apply an anti-rust spray. You should also consider applying wax to your car every year to provide better protection against rust. 
Can You Use Rust Proofing Treatment on Used Cars? 
It's still useful to apply this treatment if you own a used car. However, you need to remove the rust first before you even spray this product. In this way, you can be sure that the treatment won't trap moisture and dirt. But you must not wait before you address rust issues in your car. You should ack quickly before the rust spreads to more areas in your car making it difficult to remove it. Furthermore, repairing it will be more expensive. 
Unfortunately, it's not always easy to find rust formation. For that reason, the best way to beat rust formation is to apply rust-proofing treatment before you even see signs of rust. As mentioned earlier, you can apply it before winter comes. Or just make it a habit to spray it every year. It's especially true if you live in colder climates, like Michigan. And if you live near the ocean, you must not forget to treat your car with rustproofing.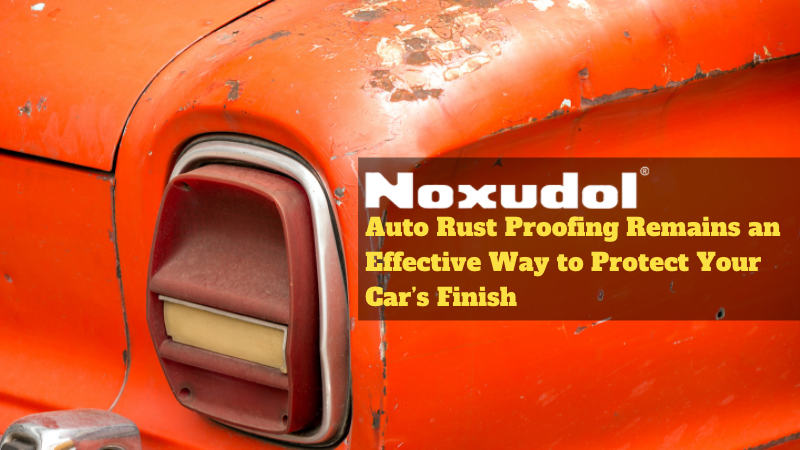 What Auto Rust Proofing to Buy? 
Noxudol is a longtime favorite among car owners who are living in wet and snowy climates. This is an excellent option to stop rust and prevent it from forming or spreading long-term. Its preventive coating is hard to beat. To know more about Noxudol's auto rust proofing properties, please contact us here: 800-997-6536.