You can absolutely use the best anti-rust spray for cars in your exhaust system. It can effectively keep the system from rusting. The car's exhaust system is prone to attack by moisture, which accelerates the rising process. If not fixed, it can lead to permanent damage. 
Keeping the Muffler from Rising with the
Best Anti Rust Spray for Cars
The easiest way to stop corrosion on the undercarriage is to spray off anti-rust on the underside of the vehicle. But you also need to rinse the undercarriage routinely to prevent rust from ever forming on the exhaust system. Rinsing removes the dust, dirt, and debris that lead to oxidation. Road particles trap moisture against the metal in the system. As a result, it allows rust formation. 
Choose Stainless Steel 
If your car's exhaust system can't be salvaged with an anti-rust because of too much corrosion, consider replacing it with stainless steel. This type of exhaust system repels rust. Although it is quite expensive, it can be worth it. 
Undercoating the System
Another way to prevent rust formation in the exhaust system is to get an undercoat. It adds an extra layer of protection between the elements and the metal. As a result, it makes it more difficult for corrosion to initiate. But it depends on the kind of undercoating you apply.
Vehicle Rustproofing
Noxudol is one of the anti-rust sprays on the market. It has been developed to make the under chassis resistant to rust formation. In that case, you can use it to prevent corrosion in your car's exhaust system. It penetrates beneath the surface to provide full protection. The value of this product is that it has an optimal temperature range. It can work well in extreme temperatures. 
How Much to Spend on Rustproofing? 
The price of rustproofing can dictate the quality of the product. But it does not mean that the most expensive can give you the best quality. Instead, you must buy a spray at a reasonable price. Keep in mind that you may need to buy one to two bottles to accommodate the size of the car.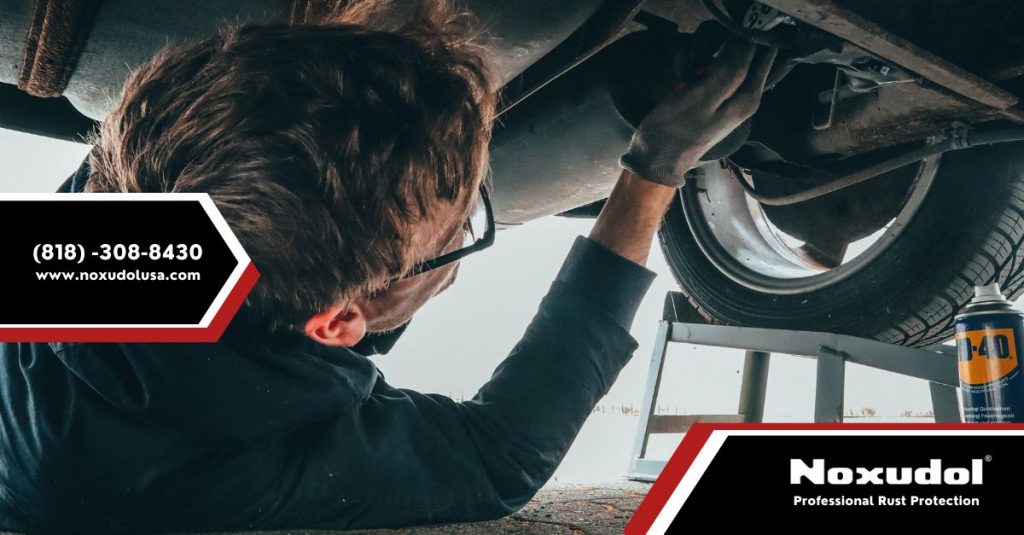 How Durable is an Anti-Rust Spray? 
The effectiveness of this product can last for one to two years. But it still depends on the road condition where you will be driving your car every day. Consider re-applying with this spray every year. 
The best way to know whether or not your car needs anti-rust is to visit your car technician. He can inspect the underside of your car to find out if it needs anti-rust spray again. If it does, make sure that the rust that has formed must be removed before the application of this product. 
There are many benefits of using the best anti-rust spray for cars. Find out more by reading our other blog articles. Or visit our online shop to purchase the best anti-rust spray on the market.