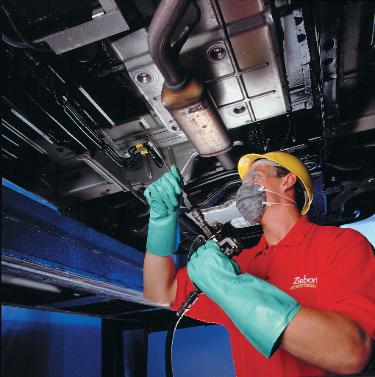 United States is perhaps the harshest climatic environment among the other developed countries in the world. Freezing winters, ice storms, humid summer and poor roads and a tendency to depend on corrosive de-icing chemicals rigorously shortens the life span of your car.
So what is rust and how it is formed? Rust is an iron oxide formed by the redox reaction of iron and oxygen in the presence of air and water. Because of the widespread importance of iron and steel products, rust prevention and protection is the pivotal economic activity in automobile industries.
Still date, there are ongoing advancements in the automotive industry, yet rust remains to be a concern and undercoating is still the best way to protect against corrosion on new and used vehicles.
What is Undercoating?
Undercoating is a layer of rustproofing protection that is often applied by the manufacturer and can also be applied after you purchase your car.
Different Types of Undercoating/Rustproofing
Car undercoating is the process of protecting your car from damage caused due to sand, road salts, and other grimes, and also helping reduce road noise. There are several types of undercoating available, here are the few:
Water- and Paraffin-Based Undercoats
These undercoatings can be found in automotive parts stores in aerosol formats. Water-based coatings are thin set and have quick drying times and this can be done by automotive shops that offer undercoating services at reasonably priced.
Paraffin-based undercoatings can be purchased through an automotive store in spray and paint formats. This coating is also thin set and relatively fast drying.
Petroleum- and Rubber-Based Undercoats
Petroleum-based undercoatings are derived from oil and have greater reflective abilities against for road salts and grime. These undercoatings can be applied through professional services and can be purchased when buying the vehicle.
Due to the thickness, it is advisable to let a professional apply this undercoating to ensure maximum coverage.
Asphalt-Based Undercoats
Asphalt-Based Undercoats is preferred as the strongest undercoatings available. These undercoatings will last longer and is the best option for vehicles that bear heavy road use.
With its damage resistant properties, this type of undercoatings is commonly used on all-terrain and military vehicles.
Guide for Controlling Your Car's Rust
Virtually every car is going to experience some sort of rust on it somewhere, sometime. Many manufacturers have taken numerous steps to prevent rust, but most of their systems failed or inadequately proved. So the problem still persists with the question, "How to Control Rust?"
One of the most main things to be aware of rust is that it tends to affect the underneath of your car first. This can be a huge issue, because the underbelly of your car contains a lot of pipes, engines and trunk compartments.
For this, we suggest checking the bottom of a car first. If you still have concerns about rust, take your car to a mechanic. He/she will do the necessary inspection to ensure whether your car is affected by rust or not.
The hidden spots of rust include: the exhaust, the suspension, the car rails, which run beneath a car's doors on each side, the wheels, and almost any other underside components made of steel or iron.
Also, make sure to check the car doors both in and out, along with areas around the windshield, and rear glass. If you see any paint bubbling, don't forget to take immediate action because paint bursting is likely an early sign of rust. You can put an end to this by applying a coat of rust proofing spray.
Next chapter, we are going to discuss is about "How to Prevent Rust?"
Knowing the warning signs and where they commonly occur is the first step in rust prevention. Rust prevention can be started by establishing routine car cleaning & maintenance. In a typical climatic condition, a very good professional washing should be performed two times a month along with wax coating. If you live in an area where salt is being used on roads, you can schedule your car washing to a weekly basis.  Be sure to spray undercoating product onto the underbelly of your car, as this is a favorite location for salt accumulation.
Another area to watch for rust is the wheel. As these offer delightful space for salt and are subjected to more aggressive wear than others, the wheel arches are probably the most at risk. They are constantly bombed with grit and stones spun off by the tyres, the wheels will quickly be attacked by corrosive salt and water during winter months. Once rust gets a hold, it can spread quickly. So it's important to give special attention to the wheel of your car. By protecting and preventing your car from rust, you can ensure your car can go back on the road, and ready to tackle the roughest climatic conditions.
To Rust-Proof or Not To Rust-Proof – Decide Now!
Whether your car is new or old you should consider rust proofing to keep it safe from rust damage. Rust will eventually collapse the metal and has the potential to destroy your vehicle. There are number of benefits to having a rust proofing treatment applied to your vehicle. Rust proofing will not only protect your car from pollutants but it can also reduce the wear and tear of your vehicle as well as lower repair and replacement expenses. Besides these, rust-free car will look firsthand and it will drastically increase the resale value of your car.
What Are Your Best Undercoating/Rust Proofing Products?
One of the best recommended ways to maintain your car's appearance is with Noxudol USA. Their rustproofing and undercoating for trucks are designed in such a way to protect your car, which provides with an increase resale value, reduced repair costs, a longer car shelf life and a better looking vehicle.
Above mentioned are the things you need to be aware about rustproofing and undercoating. Have you rust-proofed your car? So, why wait? Contact Noxudol USA and learn how rust-proofing your car can extend its life and improve its performance. For more details,